The 2021 Subaru Love Promise Customer and Community Commitment Award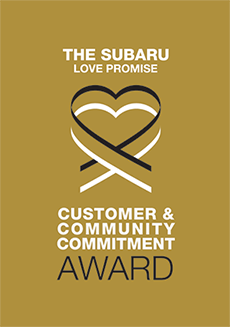 We've been nationally recognized for our dedication to our customers, our community, and the Subaru Love Promise.
We're honored to receive the 2021 Subaru Love Promise Customer and Community Commitment Award. This award nationally recognizes elite Subaru retailers who provide an exceptional customer experience at every interaction with Subaru. These retailers have also demonstrated an outstanding commitment to supporting passions and causes in their local communities in important areas such as the environment, community, health, education, and pets.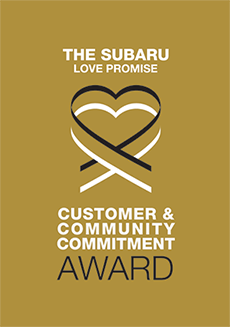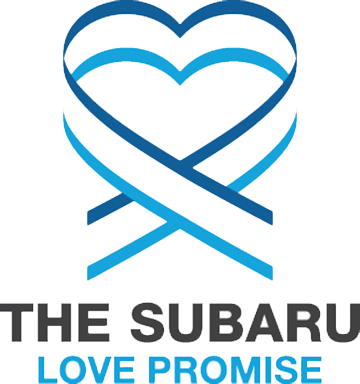 What is the Subaru Love Promise?
Subaru and our retailers believe in making the world a better place and the Subaru Love Promise is our vision of respecting all people. This is our commitment to show love and respect to our customers and to work to make a positive impact in the world.
How is Williams Subaru dedicated locally to the Love Promise?
Our Love Promise can be seen in various partnerships with local charities and non-profits. We're grateful for the opportunity, not only to be a part of our community, but to serve it as well.
Humane Society of Charlotte, Humane Society of Union County NC, Kindness Kennels
TerraCycle, HAWK - Habitat And Wildlife Keepers
Shamrock Gardens Elementary
Second Harvest Food Bank Metrolina, Common Heart
ACEing Autism, North Carolina Leukemia & Lymphoma Society, Levine Children's Hospital
Love Promise Stories from Williams Subaru
Subaru and Williams Subaru believe in making a positive impact on the communities in which we live and work. We uphold that belief through our Love Promise Community Commitment. Every month, we select inspiring stories from customers and partners from around our area who strive to support our collective commitment and feature them here
Shamrock Shuffle 6x Sponsor! - Kate D
Williams Subaru was proud to support the Shamrock Gardens Elementary School's annual Shamrock Shuffle 5K for the 6th year in a row! This annual fun-run is the school's flagship fundraising event and we were thrilled to be a Gold Sponsor. Our donation will help support field trips, Teacher Innovation Requests, Academic Enrichment Clubs, and much more. Over 300 people came out for the fun event with beautiful weather. We are looking forward to supporting the event again next year, and will also see all the kids again later this year for our annual Subaru Loves Learning Adopt a Classroom initiative.
---
A Tee-rific Tournament for a Cause - Kate D
Blessed Assurance Adult Day Care provides an invaluable service that too often goes unnoticed! Blessed Assurance Adult Day and Health Care Services is a non-profit entity established 23 years ago by local residents to serve the day time needs of our community's senior and disable adult population. Their Adult day care provides social, recreational and health care programs in a group setting for aging adults. Annually, they organize a charity golf tournament to raise funds that directly support disabled veterans, seniors, and other adults with Alzheimer's, Dementia and various diseases of the elderly. Williams Subaru was proud and happy to donate prizes as well as swag bags for participants of the tournament. Our donation of these physical items allowed for the sponsorship and registration fees to go directly to supporting their cause since they did not need to purchase these items.
---
Cars & Cookies - Kate D
Girl Scout Cookie season - a time nearly everyone looks forward to! Not only are they delicious, but each box purchased helps power amazing experiences and opportunities for girls year round. The more cookies sold, the more Girl Scouts build essential skills as they begin to think like entrepreneurs and learn to take the lead. The owner of Williams Subaru, Ward Williams, appreciates, understands, and supports the impact that cookie sales can have on a Girl Scout troop. During the cookie selling season earlier this year, Ward purchased over 100 boxes from a local troop and offered them to customers in the Williams Subaru showroom and waiting lounge. Through this initiative, Williams Subaru supported their local Girl Scout troop, and made customers feel happy and appreciated at the same time!
---
Rabbit Rehab - Mike M
Mike Melton, Williams Subaru's fixed operations director of over 20 years, truly embodies the Subaru Love Promise in everything he does. When he found an injured, abandoned baby bunny in his yard he immediately jumped in to help. The rabbit had a puncture wound after having been attacked by a neighborhood dog, so Mike made the bunny a comfortable makeshift enclosure and provided it with food and water. The next day, Mike contacted a local North Carolina PAWS rehabilitator, Leslie, who was able to take the bunny in and give it antibiotics to encourage recovery. After a few days under Leslie's care, the bunny was able to be safely released back into wildlife. Mike did an amazing thing, the right thing, when he sprung into action to help that poor little bunny. Had he not intervened, we are not sure the bunny would have survived. Thank you Mike for your willingness to do the right thing, and we are so grateful to Leslie and the entire NC PAWS organization for the incredible work they do!
---
Williams Subaru - SHARES the LOVE for WILDLIFE - Jennifer G
Due to COVID-19, 2020 was an especially difficult year for Carolina Waterfowl Rescue. When other centers closed due to COVID-19, we chose to stay open. In addition to our animals, we were taking in animals from other facilities in the area. Along with all these animals, we were struggling for donations to keep up with the staff overtime. In addition to donations, we lost over half of our volunteers. When Shawn Sigler, General Sales Manager for Williams Subaru Charlotte contacted us, it was a blessing. CWR was honored to be chosen as one of the hometown charity partners for the 2020 Subaru Share the Love Event by Williams Subaru of Charlotte. Thank you to Williams Subaru of Charlotte and their customers for choosing Carolina Waterfowl Rescue. We were presented with a check for $9,768.47. We are so grateful and appreciative for this gift. The Williams Subaru family is a wonderful organization and cares deeply for the Charlotte community. Mission Statement: A. To provide a facility for the rescue, treatment, and release or re-homing of sick, injured, and orphaned native wildlife, other waterfowl, and dumped or surrendered farm animals. B. To educate the public about and to promote understanding of the local wildlife and their habitats, as well as ethical treatment and care of farm animals. C. To increase awareness of and appreciation for the value of wildlife and the environment, and to protect these natural resources. D. To promote the highest standards in all activities of the rehabilitation profession. E. To promote networking, communication, and cooperation among rehabilitators, wildlife organizations, farm sanctuaries, and facilities on local, statewide, and national levels.
---
Paying It Forward - Kate D
The staff at Williams Subaru was honored to be a Love Promise story winner in 2020, and was more than pleased with the honor alone. When we received a $250 gift card as a reward, we knew right away we wanted to use it to help someone in need. Our marketing director had recently learned about an organization, Da Village, that was stocking free community fridges for the homeless, so we reached out to them to see what supplies we could donate to support their mission. Coincidentally, this was right around the same time as when a large homeless tent encampment was being evacuated due to infestation. These homeless individuals were told they had to leave, but didn't have anywhere to go. The county, city, and various non-profit organizations came together and secured temporary housing for those displaced, in former motel buildings. Da Village began helping procure supplies folks would need during their stay such as towels, bathroom cleaner, soap, etc. When we contacted Da Village, they were thrilled to hear we were willing to buy and donate supplies. We immediately hit the stores and purchased hand towels, dish soap, laundry detergent, and bathroom disinfecting spray using the $250 reward gift card. We were able to buy enough to outfit 80 elderly residents with the supplies they needed to make their stay more comfortable and clean. It was an honor to "pay it forward"!
---
Keeping Charlotte Beautiful - Kate D
Williams Subaru joined Mecklenburg County Park and Recreation, along with Keep Charlotte Beautiful for a park cleanup day during Earth Week 2021. Together as a team, members from both the sales and service departments donned caution vests and used litter grabbers to pick up and dispose of trash collected throughout Charlotte's popular Cordelia Park. We found confetti left over from a party, candy wrappers, water bottles, and more. Park cleanups like this are incredibly important, especially in parks like Cordelia Park that are alongside a natural creek that feeds a larger waterway. Trash and litter can collect in the creek negatively impacting wildlife, water flow, and foliage. We were honored to spend a morning donating our time to such an important community cause.
---
Donating Over $30,000 for a Roof Above - Lauren C
Williams Automotive Group recently proudly presented Roof Above with a donation of $30,403! Roof Above offers a spectrum of homeless services and housing programs in the Charlotte, North Carolina area. Their cause is incredibly important, especially with the current state of affairs. We are so grateful to have them in our community and we want to help them reach their ultimate goal to get neighbors off the streets and into safe housing. Through their shelters and housing programs, they are able to provide the safety, protection, and dignity of a "roof above". We decided to support Roof Above right at the beginning of 2021. Traditionally, the end of a year brings with it the holiday season and is typically an extremely popular time to give back to non-profits. Conversely, the beginning of a New Year isn't quite as active. The first quarter can be a time of great need in terms of donations. Roof Above was thrilled to hear about our intention of gifting them a large donation before the end of Q1. To boost the amount Roof Above would receive, we asked our vendor partners and various business contacts to join us in our mission. Williams Subaru Charlotte committed to matching donations from our partners, up to $25,000. We were able to generate over $5,000 from our contacts to match. Instead of just matching, our dealer principal, Ward Williams, decided to go ahead and donate the total $25,000. In total, Roof Above received $30,403! The donation will go towards administrative costs, Roof Above's current greatest need. Roof Above's team is incredibly busy operating multiple shelters, providing laundry services, meals, basic hygiene items, the list goes on and on. To further enhance our commitment to Roof Above, we catered lunch for the residents of their temporary hotel shelter on Wednesday, March 24th 2021. We purchased the lunches from Community Matters Cafe, providing graduates of Charlotte Rescue Mission with additional life skills inside the living laboratory of a working restaurant. At this time, Roof Above does not have active volunteer opportunities like they have in the past, due to COVID-19. When they are once again able to accept volunteer help in their facility, we have plans to be active volunteer participants! The team at Williams Subaru is so grateful for everything Roof Above is doing for our community's neighbors in need. We are honored to support them!
---
Williams Subaru Promises LOVE and CURES - Ashley D
Arya and Micah have a lot in common. Both heard the words, "you have cancer" at a very young age. In January of 2019, Arya was diagnosed with Chronic Myelogenous (or Myeloid) Leukemia, a rare blood cancer typically found in adults of 60+ years. Arya was only 2 at the time. Her cancer journey began with pain in her legs and hips – prompting an unexpected 8-day admission to Levine Children's Hospital. After 72 hours of multiple rounds of pain meds and little sleep, the oncologist and Levine staff presented Arya's diagnosis and a plan to begin treating her cancer. Arya has been such a light and little fighter throughout her 2-year cancer journey. Though it's been a very rough chapter in her life, there's still a long road ahead. Micah's mother, Summer, was 7.5 months pregnant with his little brother Levi when Micah was diagnosed with Acute Lymphoblastic Leukemia, or ALL. His cancer journey began with fevers, stomach pain and bruising. On July 14, 2018, Summer took Micah to the ER at Novant Health and heard the words that would change her family's life forever, "Micah has Cancer." After many, many months of treatments, in-patient hospital stays and challenges, Micah has come out stronger than ever! Micah is currently in the maintenance stage in his treatment and is projected to complete treatment in November of 2021 – just in time to celebrate his 10th birthday! Both Arya and Micah have been through a lot in their short lives, but generous companies like Williams Subaru are providing hope for a brighter future. During their 2020 Share the Love Event, Williams Subaru honored both children as their official Hometown Heroes and raised over $16,000 for The Leukemia & Lymphoma Society, an organization with one goal: to end blood cancer. Williams Subaru leadership and staff are truly committed to serving their local community and building a future without cancer for kids like Arya and Micah. Their support has helped drive new therapies for all blood cancer patients. In 2020, The Leukemia & Lymphoma Society helped advance 14 of the 17 blood cancer treatment options approved by the U.S. Food and Drug Administration (FDA) – an astonishing feat that would not be possible without partnerships like that of Williams Subaru. In 2020, Williams Subaru truly brought LIGHT to the darkness of cancer.
---
Driving Around the Crown - Kate D
Williams Subaru was proud to sponsor the Around the Crown 10K for the second year in a row! Even though things looked a bit different this year, the event team was able to pivot quickly and created a unique and unforgettable race experience for all who participated. Over 2,000 runners came out over the course of a week and ran throughout the streets of Charlotte. The ATC10K Subaru Outback would normally lead the runners on their way, but this year it was stationary at the start/finish line instead. This race is so great for the community, and their mission is "to promote the simple act of putting one foot in front of the other to move Charlotte forward." They have a serious focus on sustainability (Around the Crown 10K is one of the country's most sustainable running races) and also have named Partners for Parks their main race beneficiary. Partners for Parks is an independent organization that partners with the local Park & Recreation Department to help preserve and maintain over 200+ parks and facilities covering almost 20,000 acres of parkland. Our sponsorship helps to make the race happen, and ultimately supports Partners for Parks. Around the Crown 10K's mission, focus, and supported causes line up so well with ours here at Williams Subaru. We are grateful for our partnership with their team and for everything they do for our Charlotte community.
---